Tough-Bubbler
Tough Bubbler takes in air from outside and turn it into ultra fine bubbles with an incorporated special rotary mechanism generating turbulent flows and an agitation and shearing mechanism, all working on a single power source. Being a self-contained portable system, it requires no external air supply equipment such as a compressor. It can be used even in highly contaminated waste fluids almost free from worries about clogging.
Brief Illustration of Tough-Bubbler (BL-1 model)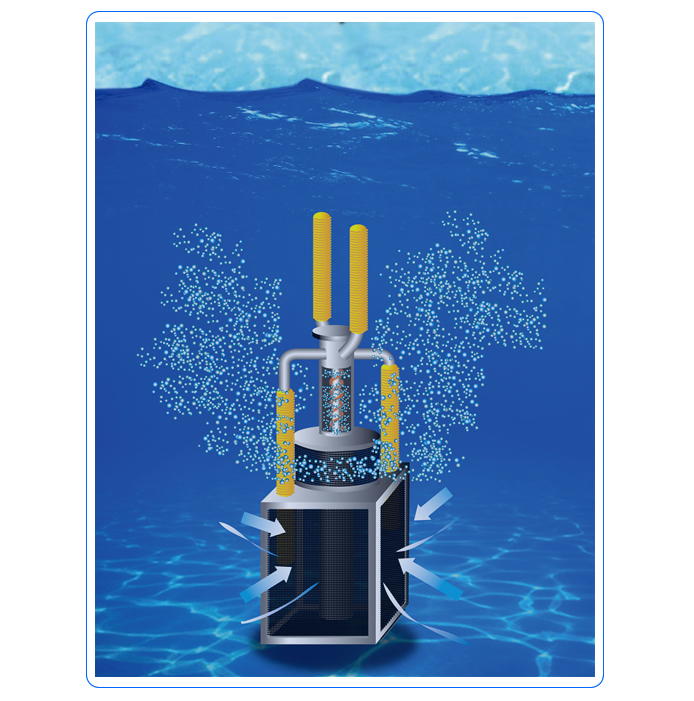 Models and Specifications
Models

Water
intake
(L/m)

Air
intake
(L/m)

Output
(kW)

Power specs

Minimum
water
depth(mm)

Rated
current
(A)

Weight
(kg)

Dimensions (mm)

BL-1

280

18

0.75

three-phase 200V

650

3.6~4.4

70

310×310×971

BL-2

220

13

0.4

three-phase 200V

600

2.3~2.8

65

310×310×864

BL-3M

70

7

0.4

three-phase 200V
(single-phase100V)

370

2.1~2.3
(6.5~7.5)

21

210×295×413

BL-3S
(air cooling pump)

70

7

0.4

three-phase 200V
(single-phase100V)

280

22

210×295×482

BL-5

50

5

0.4

three-phase 200V
(single-phase100V)

330

1.8~2.1
(5.9~6.2)

18

190×265×370

BL-7
(horizontal model)

40

4

0.15

three-phase 200V
(single-phase100V)

200

1.15
(3.6)

16

152×450×152
Installation and General precautions
Select a mode of installation suitable for the environment considering such as the pool depth. It can be easily installed by simply placing the unit at a depth to submerge it entirely. Where the bottom surface is not flat or the pool is too deep for the unit to take in the air by itself, you can suspend the unit such as with a chain from the above. For example, in a deep pond or lake, you can suspend the unit from an optional float.
1. Bottom installation
Select a location where the bottom surface is flat and stable. If the surface has a deposition of sludge or is slanted, remove the deposition or suspend the unit.

2.Suspended installation and suspension from a float
CAUTION: when suspending the unit, always check the strength of the point where a suspender is to be fixed. Make sure that the unit will not revolve while in operation.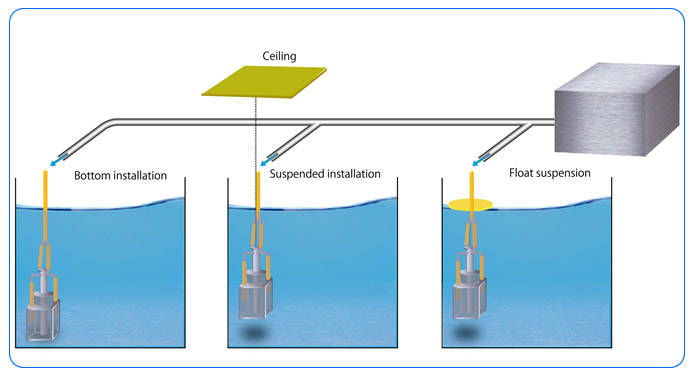 Hybrid Bubble System / BL-JET / BL-SuperJET
The advantage of a nozzle-type micro/nano bubble generator is the uniformity of bubble sizes. Uniformly sized micro/nano bubbles are less liable to get together and able to maintain the properties of micro bubbles relatively well. Incorporating it in the piping will be an effective measure for keeping the piping clean and prevent clogging. Nozzle types include venturi-based and cavitation-based systems, which are suitable for use in environments with relatively low concentration of suspended solids such as for cleaning, or for mixing gas and liquid. We can propose the best combination optimized for your working conditions and water level.
Brief Illustration of Nozzle Type Generator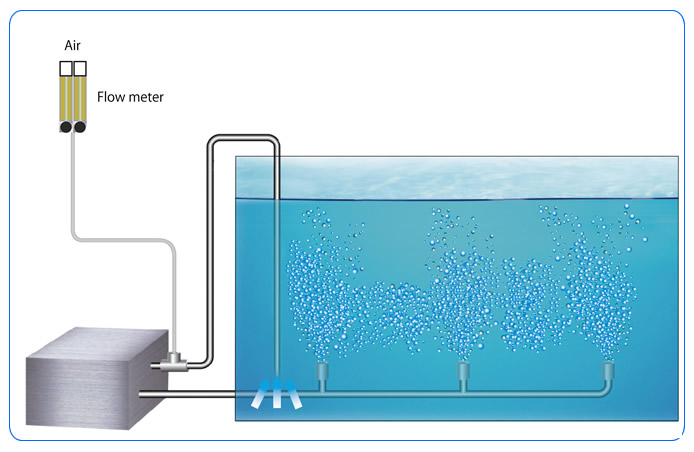 "Hybrid bubble system" consists of a combination of an air intake gas mixer and a nozzle generating micro bubbles using cavitation. (Should be applied basically only for fresh water or water with suspended solids in 1mm or under). The introduction of micro bubbles lowers the "apparent surface tension" of the washing water and dramatically increases the soaking and detergency of the liquid. It produces micro/nano bubbles mostly from gas dissolved in liquid, without bringing contamination from the air into liquid.
It makes a difference in the result of washing
Can be introduced into existing facilities
Minimizes involvement of dusts from outside
Washing Test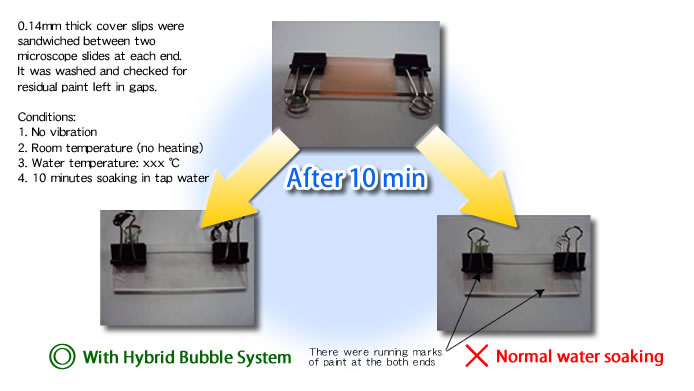 Introduction case
At the final wash tank (pure water tank) preceding a painting process.
Objectives:
①Improve cleaning performance:
Prevents painting defects (paint runs). Painting defects are reduced by 50%. The thickness and range of runs also dramatically shrink.
②Maintenance and improvement of washing water quality:
Prolongs washing water replacement cycles and prevents odor.